Tropical Outdoor Lighting
If you have had a great time at a tropical themed party, the chances are that tropical outdoor lighting played a major role in the theme. Now you are planning one of your own and it has to go beyond palm trees that you inflate and flower leis.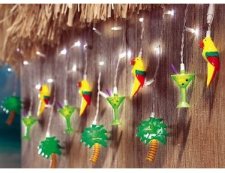 You want to bring the tropics into your back yard. You will need to set the right mood, play the right music and create the perfect tropical mood.
Rope lights can be wrapped around tree trunks in your yard. They don't have to be palm trees, as any small tree will do. They are very easy to install and you can wrap them around the deck railing or put them along your steps to keep them safe.
Perhaps the flaming tiki torch is your style of tropical outdoor lighting
. The flames reach into the sky and also keep insects away. Today you can get tiki torches with LED lights, but if torch is the key word, you will want the flame. You can cross torches into a criss-cross and secure them at the center for a different look that will draw compliments from your guests.
If you want to add a little campground humor to your lighting, you can find string lights. They come in a variety of shapes from pineapples to monkeys or coconuts. With a string of outdoor holiday lights, you can create one of your own design with globes that you choose.
Your table needs light. There are great selections of tropical themed centerpiece lights to choose from. You may want to incorporate the lights into a plastic fruit centerpiece. A tropical themed party is your opportunity to let your imagination overcome your inhibitions.
If you are fortunate enough to live in a area that is surrounded by palm trees, you can highlight that gorgeous tree with uplighting. The tropical outdoor lighting can be mounted on the tree or set into the ground. You can have a stake LED light that is a spotlight and can highlight the graceful tops of the trees. Perhaps a toy monkey mounted on the tree will add a little something.
Lanterns distributed through the table areas of your party will provide lighting for your guests as well. You may have several tables set throughout your yard. A simple or extravagant lantern on each table will guide your guests safely.
Let your imagination control your choices for tropical outdoor lighting. You can use LED lights, solar lights or standard incandescents to create the look you are seeking. Solar powered lights will allow you to get the lighting to remote areas without draping wires across your property. They are safe and economical to use.
Many solar powered lights can be programmed to turn on at dusk and off at dawn. The only caution is to be sure you get adequate light from the fixtures. Some solar powered lights are not very bright. You will need to search your local stores to be sure that you are getting exactly what you are looking for.
Top---> Tropical Outdoor Lighting
Home Page---> Outdoor Lighting Magic
Comments?
Do you have something to add about this? Share it!
I would appreciate if you wouldn't mind telling people about my site. Just a mention on your Facebook wall, Twitter account, blog or forum, whatever you can do so that people know we are here, and how we helped is appreciated.