Outdoor Lighting Systems
The Features and Benefits
Outdoor lighting systems have a number of different advantages and benefits. They can offer more security and overall safety by illuminating a dark area of your property, walkway, or even an entryway. They can be used on the porch, or patio, to give more light so you can entertain guests all through the evening, especially on those hot Summer nights when no one likes to be inside.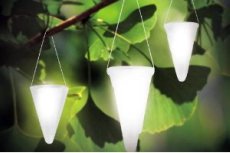 You can use outdoor residential lighting to improve security, safety, and enhance your landscaping at night.
Just as there are many different benefits, there are also a wide range of styles to choose from. These can be used alone, or in combination to add warmth to your property. There are a number of different outdoor security lights. These can spot light areas, provide ambient illumination, etc.
There are also motion sensor security lighting systems, that come on when someone approaches. There are hanging lamps that you can install about your entryway, or above the garage door. There are lamp post style lights, low level walk way lights, all that can help guests who are unfamiliar navigate to your door without tripping over the cat.
One of the main concerns that people have in general these days is about the skyrocketing costs of electricity. There is a way around this issue when it comes to outdoor lighting systems. This is through the use of solar powered outdoor lights. You can still get all the different styles of lights, security, spot lights, ambient and mood lighting.
The best part of all is that these lights do not use any home power sources. These lights have solar panels built into them, or even from a remote location. During the day, even on cloudy days, the energy of light is absorbed, stored, and discharged in the evening over time. With newer solar technologies available, your regular bulbs have been replaced with super bright but highly efficient LED bulbs. This means that the lights will stay on up to ten to twelve hours after dark.
There are many different advantages of solar outdoor lighting systems . For one, in a power outage, you don't have to worry about coming home to a dark driveway or entry. You never have to worry about forgetting to turn off the lights, they come on automatically at night, and shut off in the morning. You don't have to worry about installing a lot of wiring, and trying to tie it in with your home's electricity. Many of these outdoor systems are fully self contained, or have easy to follow solar panel mounting instructions.
The choices when it comes to solar are just about limitless. You can find motion activated security lights, lamp post lights, stake lights, light strings, the list goes on.
You can even get creative, because there are numerous accent lighting options. For an example you can buy lights that resemble rocks, or animals etc. to place along a path in your back yard, or in the garden. During the day, they are decorative and sometimes not even noticed. At night however, when they turn on, they illuminate a dark path, or light up some scenery or landscaping.
There are solar powered outdoor lighting systems to fit just about any budget. You can find simple stake lights and light strings for around $20-$50. You can spend as little or as much as your budget allows, and still have a really good set up.
Top---> Outdoor Lighting Systems - The Features and Benefits
Home Page---> Outdoor Lighting Magic
Comments?
Do you have something to add about this? Share it!