Copper Outdoor Lighting
There are several benefits to copper outdoor lighting.
Copper has been in use for 5,000 years. It is no wonder that it has remained in use and growing in popularity. It is a versatile, recyclable metal that is used in wiring and in many types of home décor, both indoors and out.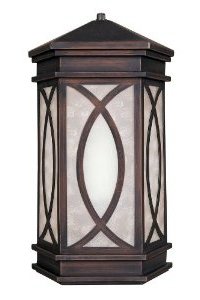 Durable
When a purchase is made, it is good to know that it is money well spent. Copper outdoor lighting is not a waste of money. It is corrosion resistant under most weather conditions. It will resist corrosion in rain and/or snow with no signs of damage. This alone makes copper fixtures worth the price.
Elegant
How often have you seen metal outdoor lighting deteriorate in appearance over the years? Copper fixtures are like cheese and fine wine, they improve with age. The beauty of copper is enhanced by exposure to the elements. It will naturally acquire protective coatings. Over the years these coatings develop and thicken until they evolve into an elegant brownish, or green patina.
In seacoast areas or industrial areas, it will take approximately five to seven years for the patina to develop. In rural areas that do not have extreme exposure to elements or contaminants, it will take ten to fourteen years. Eventually the weathered, attractive lighting will blend into the area in which they are placed.
Aging
Copper ages well. It is not affected by sunlight and does not become brittle, as plastic may. They are particularly desirable for nightscapes and landscaping enhancement. Another plus is their recyclable capability. It is estimated that more copper is recycled than mined, a great savings on the environment.
In fourteen hundred ninety two, Columbus sailed the ocean blue and his ships had copper sheathing underwater to preserve the hulls.
Copper outdoor lighting is not only beneficial for its esthetic appeal, but also for security and safety. Lighting is vitally important at night whether coming home from work or a social event, or entertaining in your outdoor area. You can find elegant fixtures for your pathways or your deck. They will add beauty and functionality to your outdoor areas.
You will not have to rush indoors when the sun goes down. You can remain out in your garden or on your patio and have a wonderful evening. You can find copper lighting with solar capabilities. This will be convenient and economical. There will not be an increase in your electric bill and you can install them safely, by yourself.
Utilize your outdoor areas for entertaining. Light up paths from your driveway to your home. Add light to alleys or side yards. Expand the time that your outdoor area can be used by installing an array of copper lighting fixtures.
You will find them available in a variety of styles, sizes and prices. Add versatility by putting feature lights in your garden. Use solar lights in your pool area and copper outdoor table lamps around your outdoor dining area.
Expand your horizons and your home. By adding copper outdoor lighting to your decorative accessories, you will have a lifetime investment in style, versatility and safety.
Top---> Copper Outdoor Lighting
Home Page---> Outdoor Lighting Magic
Comments?
Do you have something to add about this? Share it!
I would appreciate if you wouldn't mind telling people about my site. Just a mention on your Facebook wall, Twitter account, blog or forum, whatever you can do so that people know we are here, and how we helped is appreciated.