Craftsman Style Outdoor Lighting
When you think Craftsman style outdoor lighting, Gustav Stickley comes to mind. His craftsman style décor has been at the forefront for many decades. Perfect for your home or your outdoor area, they will quickly become a conversation piece for your guests.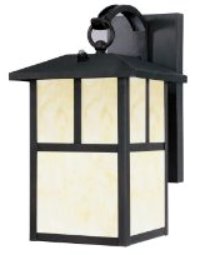 He started designing Craftsman style furnishings when he tired of the ornate Victorian style that was so popular at the time. Craftsman was the self proclaimed title which evolved into Arts & Crafts. Craftsman style lighting became the first authentic American design.
Stickley had a magazine, The Craftsman that was inspired by the British Arts & Crafts movement. Natural materials combined with honest construction and the talent of the maker made it a truly American style. Craftsman style lights are more rugged and sturdy than either the Mission or the Arts & Crafts styles.
The simple, angular lines of the Craftsman style outdoor lighting fixtures will take you back to the arts and crafts period while adding beauty to your outdoor areas. Cast iron fixtures, combined with a selection of globes over the bulb of your choice will give you the required amount of light for your outdoor setting.
Tinted glass enhances the historical Craftsman style and adds allure to your outdoors. Finishes such as antique copper, brushed brass, black enamel, lacquered brass, old brass and polished nickel are just a few of the selections that you may choose. You may also find polished chrome, unlacquered brass, brushed nickel carries your selection even wider.
You may choose the simplest of wall sconces and enhance the fixture with an attractive globe. Many of the Craftsman designed globes are enhanced with metal trim. Some of the simplest finishes can be accompanied by Mica diffusers, amber glass or art glass shades. Solid copper and the best of natural mica or amber mica are readily available.
Craftsman homes have plaster or stucco siding, overhanging eaves and square pillars. You may also have some Spanish Mission features such as the red tile roofs, round windows and other characteristics. Landscape lighting for these homes should be subtle, yet prominent. They need to be positioned in your landscape or on your property to emphasize the elements of the outstanding design of Craftsman style outdoor lighting.
Columns can be massive and an inviting place to put your elaborate outdoor lighting. Each column can hold its own fixture, providing adequate lighting for safety and security. The Craftsman style is not as square as the mission style, but they are similar. The Craftsman style evolved into the Mission style while holding on to some of its distinctive characteristics.
Lighting in the Craftsman style are often comprised of lighter, simple shapes and are more rectangular. This will flatter the styling. They will have a sturdy and very rugged feel to the observer. The designer features of the distinctive Craftsman style lighting is a pleasure to behold. It will set the mood for family and guests alike. You will have an appealing light display without distracting from the style of the house.
If you have doubts about whether you are featuring Craftsman style outdoor lighting or Mission style, it is important to realize that the two can be interchanged and still be attractive.
Top---> Craftsman Style Outdoor Lighting
Home Page---> Outdoor Lighting Magic
Comments?
Do you have something to add about this? Share it!
I would appreciate if you wouldn't mind telling people about my site. Just a mention on your Facebook wall, Twitter account, blog or forum, whatever you can do so that people know we are here, and how we helped is appreciated.