If you are living in a climate that allows outdoor activities year round, having outdoor deck lighting with some creative lighting aspects is a big plus. It can transfer a dull, dark night into a wondrous landscape that you can enjoy every evening. Entertaining guests or sitting alone can be enhanced with lighting that sets the atmosphere you are trying to create.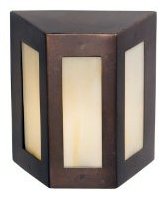 Low voltage lighting uses the same amount of voltage as your car battery, 12 volts. Regular household current is 120 volts. You can install them yourself without hiring an electrician and features can be added or taken away without unplugging your lights. Kits are inexpensive and are available at home stores and some hardware stores.
Outdoor deck lighting can be very inconspicuous during the day. Special deck lighting can be installed in many ways. One of the most popular styles has each fixture installed in the deck itself. This type of lighting can be walked on without damaging the lights.
This recessed type lighting is a real eye catcher. You can extend the look to the stairs leading to your deck and include them as part of your landscape lighting as well.
Deck lights come in kits. A basic kit contains everything you need to light up your favorite recreational area. This type of kit contains 8 fixtures, each is 3x4 inches, 8 4 watt bulbs, sockets and connectors with an on and off setting. Included is fifty feet of cable. Additional fixtures and bulbs can be ordered in sets of four.
If you choose to save money and make outdoor deck lighting a do-it-yourself project, instructions for installation are included in the kit as well as on the internet.
It is important to keep in mind that a low voltage system should not only look great, but should also provide the security and safety you desire. You can add low voltage spotlights to highlight some potentially hazardous areas such as the stairs.
By having recessed lighting, you can avoid uncomfortable glare. Properly aiming your spotlights will prevent the light from bouncing off a hard surface and into your eyes. They should not be aimed at the deck or at a wall. The effect of indirect lighting adds ambiance to your lighting project.
Test the areas you will be lighting. A flashlight or lantern can be used to give the illusion you are trying to create. If you are not attempting to create overall lighting, but rather safety features, you should try the recessed lighting and connect the wiring on the underside of the deck.
You may also choose to use post mounted lights on your deck steps to increase safety or to create a different look. These pools of light will add a greater degree of safety and security to your deck area. The pinpoint lighting that comes with recessed lights, does not provide general lighting to all areas.
By shopping online and getting a variety of ideas, you can make some decisions about your outdoor deck lighting. You can also start your shopping at home stores or hardware stores. These facilities often have people who can give you some very helpful hints.
More resources you may find interesting:
Top---> Outdoor Deck Lighting
Home Page---> Outdoor Lighting Magic
Comments?
Do you have something to add about this? Share it!