Vista Outdoor Lighting
Homeowners that have been shopping for Vista outdoor lighting either online or in the traditional home centers and nurseries might feel bombarded with a huge amount of interior and exterior home lighting suggestions.
Reality is that the quality and design just keeps getting better, making it important for all of us to realize what is new or soon to arrive from an assortment of companies.
USA Pride
Consumers get a full ten-year warranty with their purchase of vista outdoor lighting. Only a few manufacturers have a US manufacturing facility to produce their complete line of transformers and fixtures. Vista is one of them.
Owner Appeal in Outdoor Lighting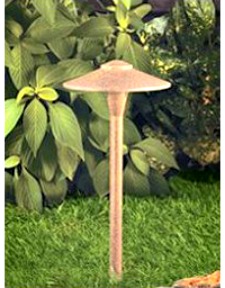 What a beautiful assortment is available for the exterior of your home and all around the yard. Aluminum, stainless steel and solid brass set an appealing theme.
Polycarbonate lenses allow the best lighting to shine through and light the area. If the fixtures include glass, rest assured care and quality are important in its creation.
Many of us have had that sinking feeling when we open the container and discover some of the vital parts are missing or require an additional purchase.
There is no such problem here. Electrical leads and connectors are included. Other necessary hardware and even mounting stakes are included, if needed.
Have you seen the new brass & copper series yet? Vista outdoor lighting makes replacing lamps easier than ever! The retention mechanism features a turn-to-lock system with no tools needed to change. Strong copper and brass pipe fixture stems add durability. You will quickly notice the extra brightness caused by the white surfaces that maximize reflected light.
Adaptable Landscape Lighting
Yards come in every size and shape and Vista landscape lighting maintains quality in this area, as well. Those who like to barbecue will appreciate the step & brick light available in natural copper or brass.
They fasten under a piece of brick to light the way down steps or accent the brick wall along the yard, path, or barbecue area. In addition to that, there are other barbecue area lights to make your evening parties safe and comfortable.
Classy and incredible, one light has a natural copper finish and hangs from bushes or shrubs. Also available in natural copper is the Vista landscape lighting lamp, just a shade over three feet tall and beautiful regardless of its placement in the yard. It is perfect when lining a walkway or near a focal point on the lawn. Regular lighting uses 20 watts and LED lighting uses just 3 watts.
Benefits of LED Lighting
Lower electric bills and a cool rather than hot bulb are two of the best-known benefits of LED lighting.
Using quality manufacturing such as that found in Vista outdoor lighting allows you to install beautiful fixtures with low-maintenance, long lasting LEDs in areas that are hard to re-lamp, with a life of ten years or more.
Another beneficial feature is a large voltage operating range that allows the homeowner to arrange lighting according to need.
Return to Top of Page Vista Outdoor Lighting
Home Page---> Outdoor Lighting Magic
Comments?
Do you have something to add about this? Share it!