Outdoor String Lighting
Outdoor string lighting will enhance your yard at night. Create various effects such as adding sparkle to your yard using low wattage bulbs, create a party atmosphere, create a mood, add a glow to your deck or gazebo, or lead your guests to your "outdoor room".
String Lighting
Your outdoor string lighting must be labeled UL approved for outdoor use for your own safety. There is just too much risk of electrical shock to use indoor units - high moisture levels can cause electrocution hazards.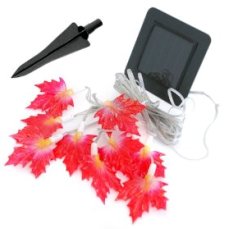 LED
Many
LED lights
are solar powered using a separate power cell so lights can be in the shade. They come on automatically at night, lighting your garden for 6 to 10 hours or more,depending on the unit purchased. Of course they are also available using line voltage or low voltage transformers.
Decorative
Decorative outdoor string lighting is available in a rainbow of colors and an array of shapes for every occasion. They can be shaped like candles, martini glasses, sandals, butterflies, Asian inspired designs, and a seemingly endless variety.
Patio
Use
patio string lights
along your Patio railing or hang them above from posts, trees or your house, giving a soft glow to your patio at night.
Temporary
Solar powered string lights are ideal for occasions where you only want temporary lighting. There is no wiring to run. Just push the stake of your power cell into the ground and plug-in your cord.
Exterior vs Outdoor
I've often wondered why they use two different terms to describe the same thing, ie
outdoor string lights
or exterior string lights. If you believe there is a difference, tell me about it in the comments section below. I'd love to hear a good explanation.
Novelty
These sort of go along the same line as decorative lighting, but on the whimsical side. Beer cans, martini glasses, grass, leaves, and stars are just a few examples.
Floral lighting string
Another decorative, flower shapes are a popular choice.
Globe
Globes come in all sizes, from miniature to fairly large, in almost any color desired.
Dragon Fly
Dragonfly string lighting will give your patio a unique look. They can also be used to decorate anywhere around your home, indoors or outdoors. Each dragonfly usually comes with a clip for mounting. Target even carries a set in bronze.
Commercial
Commercial outdoor string lighting? There are quite a few heavy duty commercial applications available that greatly increase the landscaping possibilities for commercial and industrial properties.
Deck
Outdoor deck string lighting can be installed along railings, stairways, and on any overhead features of you deck or gazebo. You can turn your deck into an intimate dining area or use more lights for a party.
Fall
Fall begins the seasons when outdoor string lighting is most popular. Thanksgiving, Halloween, Christmas, New Years, Valentines Day and Easter are times when we see some really great lighting displays.
Porch
Wall sconces aren't the only type of lighting for your porch, especially larger porches. Your strings can be hung under the roof to cast a glow over your porch.
Revival Tents
I won't really go into revivals but strings of lights can easily be draped from framework and wrapped around poles in any kind of tent. They are also easily removed for storage or transportation.
Top---> Outdoor String Lighting
Home Page---> Outdoor Lighting Magic
Comments?
Do you have something to add about this? Share it!