Landscape Lighting
Designing for Effect
Designing your landscape lighting can be pleasurable or a disaster. The scheme of your lighting is a form of art as you create the mood you desire. Fortunately with a little planning the pieces of the lighting puzzle can come together and give you exactly what you are looking for. Special lighting effects can be created regardless of the amount of space you have.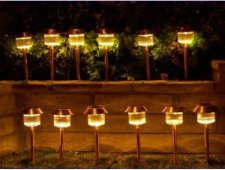 The variety of low voltage lighting fixtures that can suit just about any décor. Each fixture and accessory is designed for a special purpose. As you choose each of your accessories you will gradually create the effects that will please your senses and your tastes.
For large areas that need landscape lighting, you may choose a floodlight. They work well on patios, decks or around your pool. Accent lights and spot lights can emphasize that portion of your landscaping project that you are most proud of. You can feature unusual trees, plants or architectural features. Along with these there are also low voltage lights that work well to outline steps, walkways or changes in elevation. This will increase the degree of safety in your yard.
There are many advantages to low voltage lighting. With the lights requiring 12 volts instead of household 120 volts, the chance of injury is decreased. The cables are safe in wet or dry weather. They can be used to outline or emphasize water features such as ponds, fountains or your pool and spa. They can be unplugged when they are on without risk of injury. Once you have placed your cables behind rocks or under mulch, you need only to place the lights where you wish to have them.
Low voltage lighting is a cost effective method of emphasizing the beauty of your outdoor area. They lend a warm glow to emphasize your personal landscape features. Lighting such as this can also draw attention away from areas you wish to avoid.
Your landscape lighting should not overlook the value of trees as potential areas to mount your lights. Rather than an unattractive or manufactured post, you can emphasize the natural look of your landscaping by mounting your lights on available trees.
The opportunities are endless. You can search at your local home stores or hardware stores and speak with the employees to gather the information you need to make an educated decision. You can also search online to see the wide variety of lights and accessories that are available. Your first step is to draw out your plans and then begin to check with various suppliers as to the available lights for those areas.
Landscape lighting can add a lot to your landscaping project. Not only can it light it up for emphasis of the area, but it can also be used to ensure the safety of the family and friends that may be walking through your yard in the evenings. Your pool is part of your landscape and lighting can bring a lot of attention to your pool or spa area.
Top---> Landscape Lighting - Designing for Effect
Home Page---> Outdoor Lighting Magic
Comments?
Do you have something to add about this? Share it!