Dusk to Dawn Outdoor Lighting
If you are looking for a unique way to add a little extra security to your home, dusk to dawn outdoor lighting may be exactly what you want. Their purpose is to add additional lighting to areas that are very dark during the night. Businesses, homes and other facilities can take advantage of the look and the security.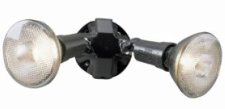 These lights go on as the sun sets, dusk. They remain on giving the illusion that someone is home or at your business, when they are empty. At dawn, they automatically turn off. Programmed with a sensor, they are easy to install and a smart investment to have on your property.
The light fitting will fit into any bayonet style socket. Ultimately it changes your current lighting system into a security system. You will have lights come on and go off whether you are home or on vacation.
There are a wide range of styles available in dusk to dawn outdoor lighting. You can have fluorescent security lights or an attractive coach styled light. They can be mounted on the ceiling or at your doorway. Most will take a bulb up to 100 watts.
Safety is important. Lighting is a great deterrent for potential burglars. No longer do you have to have drab, uninteresting lights, but with a little shopping you can find one that suits your personal taste and decor.
A quick search on the internet or a visit to your discount home stores will provide you with many ideas as to the styling and the variety of prices that are available for this essential lighting system. You will never come home to a dark driveway or entryway. You won't have to worry about hiding places in nearby alleys. It just makes sense to take the extra step to a secure environment.
Top---> Dusk to Dawn Outdoor Lighting
Home Page---> Outdoor Lighting Magic
Comments?
Do you have something to add about this? Share it!
I would appreciate if you wouldn't mind telling people about my site. Just a mention on your Facebook wall, Twitter account, blog or forum, whatever you can do so that people know we are here, and how we helped is appreciated.