Why Choose Solar Yard Lights
Plain unattractive styling and low power gave solar yard lights a bad reputation back in the nineties. Since that time, research and technology have proven to be advantageous to the business. Today there are a lot of creative solar lights that will actually light up your yard and emphasize those special areas.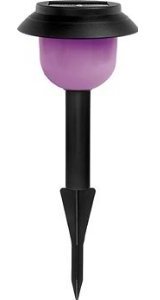 These environmentally friendly light fixtures use the sun for power. This free, renewable source of energy benefits the owner and the environment. Global warming is not an issue until the battery needs to be replaced. These are all valuable considerations for environmentally conscious people.
Your power bill will not be affected by solar lighting. The initial cost of the system is comparable to many other types of lighting. The difference is that the initial outlay will by your last investment until you replace the battery. There is no wiring associated with the installation of solar yard lights. Consequently there will be no digging in your garden or trenches needed for wiring.
Solar lights are easy to install. You can get fixtures that sit on stakes that are placed in the ground, or others that are hung on trees. The newer LED light bulbs will give you adequate light for remote areas of your yard and or in your storage shed. The lights will last a very long time and require minimal if any maintenance.
The sensors that are incorporated into the solar systems will automatically turn on the lights at dusk and off at dawn. With occasional cleaning of the sensors, there should be no time constraints needed for the lights. They are very valuable on your deck and posts to allow you to entertain without the risk of electric shock or tripping on wires. There is no need to turn them on, they take care of that themselves. Safety will be provided for you and your guests whenever you want to entertain outdoors.
Solar yard lights are especially safe for use around your pool or other water features. Because there is no electricity involved, they can be used in these areas safely. Any place in your yard, walkway or stairs can be lit with the use of solar outdoor lights.
The variety available has become wide and stylish. There are light fixtures that will easily suit any outdoor area in which you choose to use them. If you have walls, patio, deck or tree that need lights, there are solar lights to fill your needs.
Perhaps you have areas of your yard that you would like to emphasize, solar spotlights and floodlights may fill that bill as well. You can show off your carefully landscaped areas or shine a spotlight on a favorite feature.
Most shoppers start at their home store which is good, as it will give you an idea of what is available. After that, a search of the internet will show you twice as many styles, designs and price ranges from which to choose. There is no need to hire an electrician, just plan the installation yourself and buy the solar yard lights that you feel will suit your needs appropriately.
Top---> Why Choose Solar Yard Lights
Back to Solar Lighting
Home Page---> Outdoor Lighting Magic
Comments?
Do you have something to add about this? Share it!
I would appreciate if you wouldn't mind telling people about my site. Just a mention on your Facebook wall, Twitter account, blog or forum, whatever you can do so that people know we are here, and how we helped is appreciated.