Solar Powered Outdoor Lighting
Solar powered outdoor lighting is a newer technology and has improved LED lighting and made it a preferred type in many places. These provide a glare-free, bright light that improves the safety and detail of any outdoor area.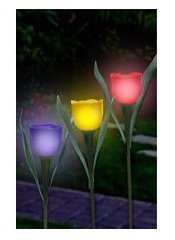 There are a variety of reasons to choose solar rather than fluorescent or incandescent bulbs. An LED light bulb will last about ten years or longer if they are burned for 12 hours per night or as long as seventeen years if they are burned for 8 hours per night. The batteries that are used will typically last for up to three years.
When your battery is fully charged, these units will last ten to twelve hours per night without difficulty. There is no wiring required to complete the installation of the lights. With the variety of styles that are now available it will be very easy to find exactly what you need for your outdoor lighting needs.
There are some technical considerations that you should be aware of with solar powered outdoor lighting. The typical LED is 2 watts and are capable of producing about 80 lumens of light. While not as much light as an incandescent type light bulb, the lighting is adequate. The LED has a lower angle to its beam and does not spray the light out into the entire area. It gives a very direct light.
There is less chance of light pollution with the LED. It makes them the ideal choice for any outdoor lighting including security lighting. In areas where light pollution is against the law, dark sky laws, LED lighting is the choice. They can be used in your yard without lighting up the neighborhood. Your neighbors will have no problem with your lighting as it will not interfere with their activities.
There is a difference between lumens and wattage. Wattage will measure power consumption and not the brightness of the bulb. The more wattage the more heat. LED lights have very low wattage and virtually no heat. Incandescent lights will generate more heat than light.
Lumens are a stantdard measure of conversion of energy to light. This will measure the efficiency in the lighting. The higher the lumens, the more efficient the bulb. The maturation rate of LED technology has doubled in recent years and the efficiency will continue to benefit users.
Earth friendly choices for solar powered outdoor lighting are becoming increasingly important to the population. With the addition of solar lights to your outdoor areas, you can provide an attractive, economical and eco-friendly environment.
There are a variety of styles and you can match the lights to the area in your yard that you are trying to feature. With the decreased amount of light pollution and the economical use of solar lighting to enhance your landscaping, you can enjoy your outdoor areas for longer periods of time each and every day.
Your pool or patio can be outlined with solar powered outdoor lighting safely and effectively. Your entertaining can be on a grander scale without the effects of incandescent lighting interfering with laws in your area.
Top---> Solar Powered Outdoor Lighting
Back to Solar Lighting
Home Page---> Outdoor Lighting Magic
Comments?
Do you have something to add about this? Share it!
I would appreciate if you wouldn't mind telling people about my site. Just a mention on your Facebook wall, Twitter account, blog or forum, whatever you can do so that people know we are here, and how we helped is appreciated.