Snowflake Christmas Lights
Regardless of where you live, you never get enough of snowflakes at Christmas, especially if they are incredible snowflake Christmas lights that are decorating your home.
Start your shopping early this year, because no matter what you are looking for, holiday outdoor lighting and indoor décor tends to sell out quickly. I have been disappointed because I was busy and postponed an order until the next day, only to find that it sold out for the season when I dropped back by. If snowflakes are on your list, the good news is that the variety is plentiful right now.
Read the description carefully, because no matter how good the write-up is for snowflake Christmas lights, it can still be confusing.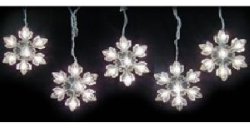 When looking at the five white snowflake string lights for indoor-outdoor use, the description talks about 35 lights.
Each of the five incredibly shaped 6.5 inches high flakes has seven lights, 6 around the edge and one in the center. The lighted length is 5.9 feet, with a 3-set connectivity. The set is particularly beautiful hung on railings and from the tops of windows.
It is also important to make sure what you are getting will work where you want it. Verify the set is UL approved for outdoor and indoor use if you are thinking of an outdoor lighting location.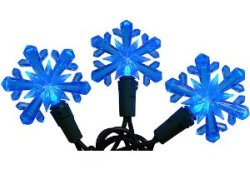 Imagine the beauty of LED Snowflake Christmas Lights
with green 22-gauge wire listed for outdoor and indoor use.
One of the best features is that other bulbs stay lit even if one of the 50 goes out. Cool to the touch bulbs mean if the kids or pets touch the bulbs, there will not be a burn.
One of my favorite features on lights such as these is the Lamp Lock feature. Bulbs are easy to change and when you replace them and close up the cover, will not fall out. The bulbs are a clear rice light bulb size and glow blue thanks to the blue plastic snowflake light covers. Six inches separate each snowflake.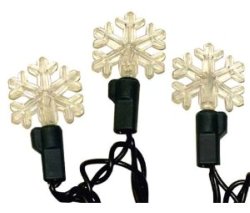 Good Tidings 23-foot indoor/outdoor snowflake-shaped LED holiday clear light set
can handle an additional connection of 20 strings. There are 70 LED snowflake Christmas lights, with the others staying lit even if one or more go out.
Perfect for windows, shrubs, outdoor trees and patios, the festive look will add pizazz to the outside or add shimmer to the inside tree or door. Line the edge of the rooftop if you wish. These are beautiful.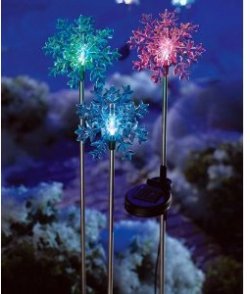 Sometimes we forget that outdoor lighting at Christmas can involve solar lighting as well. Family, friends, even the pets will fall in love with decorative solar snowflake Christmas lights for the yard.
Affix each solar snowflake to one of the stakes and then place the stake in the ground. You will have three lights about two feet off the ground changing color between red, green, yellow and blue.
Turn the switch to on so the battery charges, letting the light show start each evening.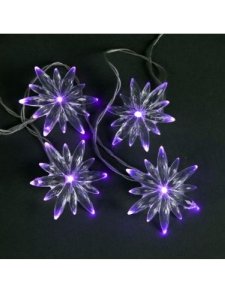 Indoor battery-operated LED snowflake Christmas lights
come on a 4-foot string with 10 lights. They are exquisite for stair railings, indoor wreaths or on the fireplace mantle.
No adding on of other sets, as the 3 AA batteries can only handle one. It will be perfect.
Top of Page---> Snowflake Christmas Lights
Back to Christmas Lights and Decorations
Home Page---> Outdoor Lighting Magic
Outdoor Christmas Lights Reviews
Found a great outdoor Christmas Lights item you think everybody should know about? Write a review for outdoor-lighting-magic.com and share it with others!