Outdoor Solar Garden Lights
Meeting Your
Outdoor Lighting Needs
Outdoor solar garden lights can help you extend that outdoor fun safely and effectively without the high cost of most outdoor lighting. Spring is just around the corner and with it comes warmer weather and thoughts of those beautiful summer days and nights and the opportunity to spend more time out of doors.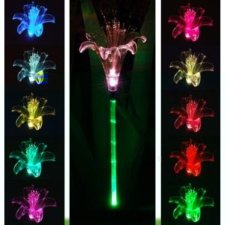 Solar garden lights come in a variety of different styles and uses from large flood lights that can offer you protection or light up a large area for that late night volley ball game, to miniature string lights that can add ambiance to your garden, porch, patio or deck.
Best of all these outdoor solar garden lights use renewable energy so they are good for the environment and the planet and they won't raise your electric bill so you can enjoy more nighttime outdoor activities without worrying about your budget. Here are just a few ways you can use solar garden lights for your summertime activities.
String Lights
Having a few sets of string lights can make your summer activities more enjoyable whether you are out in your own yard or camping in the middle of nowhere. These miniature string lights, which resemble Christmas lights, come in a variety of colors as well as white and clear.
Because the batteries these lights use are powered by the sun and not electricity you can take them with you when you go camping to provide light for your campsite. They are safer than kerosene lanterns and can be strung on your tent, on a tree or just about anywhere you choose. Best of all, you won't have to worry about searching for that flashlight or stumbling around the campsite after dark.
These lights are also great to use around the home as well. You can use them on your mailbox, around your deck rail or roof and even string them on trees in your yard and garden to provide an oasis of soft light to your outdoor activities.
Hanging Outdoor Solar Lights
For those of you who like a little more light on your deck or patio hanging outdoor solar garden lights can provide you with the light you need and enhance your patio décor. Hanging outdoor solar lights come in a variety of shapes and sizes from round to those that look like Chinese lanterns. They provide light for that outdoor entertaining and for those after dark cookouts.
Stake Lights
Outdoor solar stake lights can be moved about to provide light for that walkway to your house or to highlight certain areas of your garden adding curb appeal to your home and making navigating to and from your driveway after dark safer for you and for your family. They can be used in flower beds next to the house, or shed a little light on that outdoor pond or bird bath. Casting a soft glow over areas of your yard that you want to highlight.
Pole And Floodlights
There are also outdoor solar garden lights in pole and floodlight styles that can be used to provide added security and safety to your home. Floodlights can be attached right to the corner or the side of your house and will light up a large portion of your yard. These lights may also come with motion detectors where the light only turns on if someone or something comes near your home. These lights provide additional security for you and your family.
Pole or post lights are great outdoor solar garden lights for your garden. These lights can highlight a large portion of your garden allowing you to enjoy the lush green plants and colorful flowers after dark as well as during the day. They can also be placed near that outdoor swing so that you and your partner can enjoy a romantic interlude after the children are tucked in bed.
One of the best things about these lights, besides the variety of styles that you have to choose from, is that they are cost effective. All you have to do is pay for the cost of the lights themselves and let the sun take care of the rest. This not only saves you on your electric bill but, also allows you to enjoy nature to its fullest without causing further harm to the environment.
Summer is so short, so why not make the most of those warm nights out of doors by purchasing a few outdoor solar garden lights to light up your summer evenings.
Top---> Outdoor Solar Garden Lights
Back to Solar Lighting
Home Page---> Outdoor Lighting Magic
Comments?
Do you have something to add about this? Share it!
I would appreciate if you wouldn't mind telling people about my site. Just a mention on your Facebook wall, Twitter account, blog or forum, whatever you can do so that people know we are here, and how we helped is appreciated.