Outdoor Christmas Lighting
Christmas is a time for lights, music and a multitude of other decorations, including outdoor Christmas lighting. Your first step in Christmas decorating is creating your plan. You need to write down your plan and carefully arrange things on paper to get the look you are trying to create.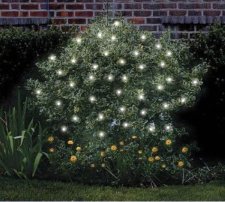 Perhaps you are planning a theme for your project. You will find that choosing a theme makes it easier to design your lighting. Christmas is a great time for animated figures and changing light colors.
You can create the perfect festive Christmas scene that shows your religious leaning or your festive mood. Perhaps a Christmas workshop or a nativity scene are dancing in your head. With planning, either can become a reality.
Once your outdoor Christmas lighting project is planned you need to make your list of everything you need to create it. Lights, fasteners, stakes, figures and whatever else is incorporated in your plan. Be sure that the lights you choose for outdoors are approved for outdoor lighting.
Energy efficient lighting is a smart way to go. LED lights will save a lot of energy. The larger your display the more energy you will save. They are programmable and easy to use. LED lights are less likely to cause fires and injuries. Their life span is up to 100,000 hours, far more than standard incandescent lights. Programmable LED lights can be programmed to change colors and create fascinating effects in your yard.
Check your lights to be sure you don't connect too many in a chain. Avoid extension cords as much as possible and be sure you have enough power to have your lights work as they should. LED lights will require less power. An LED light uses .08 watts while a standard incandescent uses ½ watt. More lights with less energy usage will enable you to create a larger display for the same amount of energy you have used in the past.
With anything electric, safety is the most important thing to focus upon. Check all of your wires for wear and cracks. Replace the worn wires. Before you string your lights in your chosen design, be sure you do not need to replace bulbs. It is a lot easier to replace them before they are on top of your home.
Outdoor Christmas lighting can emphasize your walkways. You can use frames such as a small trellis to outline an archway to distinguish your walkway. There are also ways to incorporate the use of music to your lights. They can be programmed to flash along with the beat of the music coming from your house.
The opportunities are endless for fantastic Christmas lighting outdoors. You can get ideas from driving around your neighborhood, taking a trip through your home stores, Christmas stores or a search on the internet.
Once you choose your highlights, draw out your plan and figure your wattage use and number of lights and accessories that you may need. Consider how your figures will be lit up and what they will be attached to. Transformers may be needed for some operations.
Whether candles in the windows are your choice or a huge display in your yard, your life will be lit up by outdoor Christmas lighting.
Top---> Outdoor Christmas Lighting
Back to Christmas Lights and Decorations
Home Page---> Outdoor Lighting Magic
Outdoor Christmas Lights Reviews
Found a great outdoor Christmas Lights item you think everybody should know about? Write a review for outdoor-lighting-magic.com and share it with others!