Malibu Solar Garden Lights
There are many different kinds of Malibu Solar Garden Lights to choose from. Here is a quick run down about how solar lights work.
Solar powered lighting systems are fully self contained, using solar panels to absorb energy from the sun, storing it in battery cells. When the sun goes down, this energy is released to supply low voltage electricity to light bulbs, usually LED lights. Depending on where they are placed, they can stay on for up to twelve hours, plenty of time to see around at night, and enjoy a nice evening on the porch or patio.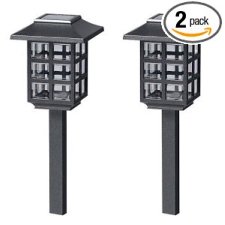 You don't have to worry about forgetting to turn them off as they automatically turn on at dusk and off at dawn. One of the best things about solar powered lighting systems
is that they don't draw electricity from your home power grid, saving you a lot of money.
Malibu is one of the most popular brands of solar lighting systems, making a wide variety of different styles of solar light products. Malibu Solar Garden Lights can be stake lights, lamp post lights, and all of these come in many different models. You can find them in single light products, as well as packs of lights. They are made from a wide variety of materials, stainless steel, platinum, as well as an assortment of high impact plastics.
These utilized the latest in solar technologies, including solar panels that are the most efficient, lithium batteries, and LED bulbs. While they may seem a little higher in price than other brands, Malibu lights are designed to last a very long time.
Here are just a few of the many examples of Malibu Solar Garden Lights you can choose from. One of them is the Malibu Solar White Nichia LED Outdoor Garden Lights. These are a dark rust color and have a glass fluted globe. These particular solar lights come in a four pack. They are made from durable metal, have a standard light intensity, and use white Nichia LED bulbs for a uniform output.
They have an 8 hour run time in full sun with built in solar panels. These lights are Victorian styled lights, with a hammered top that has a very unique and distinctive look. These can be used along walks in your garden, as an accent light, and will project a very attractive pattern. These lights sell for around fifty dollars a set.
Another fine example of Malibu solar garden lights is the Malibu Outdoor Metal Bollard Light Kit with four lights and a separate solar panel. These are made from a high quality steel construction, in a bollard style. Bollard styles are a unique design, with a long tube and a light that is directional.
Each light comes with a twenty foot cord that connects to a solar panel, so you can even place the lights in a shaded area as long as the panel is exposed to full sun. These lights will operate for up to 12 hours on a full charge, and turn on automatically when the sun goes down. These light packs sell for just under $100 retail.
These are just two examples of the many different styles that are available with Malibu Solar Garden Lights. You can find many of these products from online retailers.
Top of Page---> Malibu Solar Garden Lights
Back to Solar Lighting OR
Return to Malibu Outdoor Lighting
Home Page---> Outdoor Lighting Magic
Comments?
Do you have something to add about this? Share it!