12 Volt Outdoor Lighting
If changing from a standard 120 volt to a 12 volt outdoor lighting system seems puzzling to you, consider the benefits. 12 volt outdoor and landscape lighting are safer than a 120 volt. That is where the benefits begin.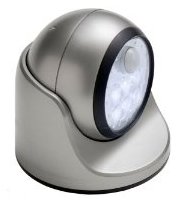 A professional electrician is not needed to install a 12 volt outdoor lighting system. Having a handyman's knowledge of installation and do-it-yourself projects is all that is necessary. They are a lot safer to install and use than standard lighting.
You can create an effective, attractive and still functional lighting system that will surround your pool, pond, landscaping or your home. There are some steps you need to take to achieve the look you are seeking. Low voltage lighting is designed to be used in wet locations, so there is little threat of major electrical shock with rain or location.
First of all, there has to be a plan. By designing your layout on paper, you can choose the space you are trying to light. With that done, you will determine how many fixtures you need. This will be done by measuring the space and planning how far apart your lights will be set.
This can be done by a simple walk around the areas you plan to light. Mark the locations and count the markings. Plan where you will locate the transformer. Be sure there is a spot that has access to an outlet without the use of extension cords.
The assortment of fixtures can be quite surprising. They are available in a variety of materials, finishes and styles. This can be the most delightful part of your plan. You can light your space with a décor that fits with the rest of your home and outdoor areas.
Spot lights can be used if there is a statue or tree that you are trying to accent. They will light a small area in a positive way. Your path can be lit with path lights. They will be used as an outline of your property. That can be quite effective.
Hooded area lights give a special glow to gardens as well as highlighting. Flood lights will light a large area and are ideal for decks or to light up a large pool area.
Allow your imagination to visualize the way you will ideally light your outdoor area with 12 volt outdoor lighting. Take a trip to your home improvement store for additional ideas. Write down some of the brands and styles and then turn on your computer.
A quick search of the internet will yield hundreds of great ideas for lighting up any area of your yard or deck. You can outline special areas and highlight the items that make you proud.
With no need for a professional electrician, you can spend the money on a more elaborate 12 volt outdoor lighting system. Caution still needs to be used. You should avoid the use of extension cords and be sure that you are not overloading your system. Anything electrical requires safety as a primary concern.
Top---> 12 Volt Outdoor Lighting
Return to---> Low Voltage Outdoor Lighting
Home Page---> Outdoor Lighting Magic
Low Voltage Outdoor Lighting Reviews
Found a great low voltage outdoor lighting item you think everybody should know about? Write a review for outdoor-lighting-magic.com and share it with others!